Happy first day of June! For my readers who had a long weekend off work over the Memorial Day holiday, I hope you were able to recharge and renew (and for those who weren't, I hope you can take some time for yourself sometime soon as we head into this summer season). I used the much-needed break to mostly disconnect from work. I'll admit, I struggle with this sometimes, but I managed to not even open my work laptop from Thursday evening through Tuesday morning and embraced the restorative feeling of being able to "unplug." Part of why this break was so welcome was that I had a busy week leading up to the holiday! I attended two back-to-back conferences, and while these two events involved different topics and audiences–and one was for my full-time job while the other I attended primarily in my role as an entrepreneur–I realized both involved common themes of personal and professional growth and building community. I'm excited to spend my June blog series sharing some of the lessons and reflections from these conferences with you all!
How it Started
First up, I took a long weekend off from my day job to focus on my personal development and my growth as an entrepreneur by attending the Black Woman Leading LIVE Retreat + Conference in Florida. This was an exciting next step in a journey that started in summer 2021 when I saw a post from a colleague about the Black Woman Leading Leadership Development program. The program called to me and to my goals as an entrepreneur, and after reaching out to Black Women Leading's founder Laura Knights, I enrolled in and completed the leadership program later that fall. The experiences and insights I gained through the program and the community I built with other participants made me want to stay engaged. I continued to participate in Black Women Leading's alumni program in 2022 to stay connected to program and other alums and I even appeared on an episode of Laura's podcast along with other alums to talk about "Navigating Your Career Path."
As soon as Laura announced that she'd be holding the first ever Black Women Leading retreat and conference in May 2023, I knew that I had to participate! I got registered right away and shared the announcement with as many Black women that I knew. (Like the colleague who first put Black Women Leading on my radar screen back in 2021, I'm always looking for opportunities to share information and resources that have helped me with my own networks.)
I took an early morning flight so that I could enjoy the area before the pre-conference Alumni Dinner in the evening. But traveling takes a lot out of you–especially when your flight leaves at 6:55am like mine did!–so by the time I got to the resort and my room was ready, I was so tempted to just crash and chill out in the room. But I reminded myself that this experience was supposed to be all about self care and pouring into myself so I walked across the street for a manicure and pedicure at the spa I'd checked out briefly at the airport that morning. And I was sooo glad I did; it was a great experience and the perfect bit of pampering to banish the stress from travel and put myself in the right frame of mind for the next two busy conference days ahead!
Kicking off Black Women Leading LIVE
Black Woman Leading's Founder Laura Knights kicked off the conference on Friday morning by asking us to set our intentions and give ourselves "permission slips," asking us to reflect on the question "What permission slips do you need to write yourself to be present?" Laura also shared the "3 C's" for attendees throughout the retreat weekend: Care, Community, and Clarity. Reiterating the "care" mandate, she reminded us all that the weekend was designed to be a conference and a retreat and that there would be time for learning but also time for relaxing and "retreating." This was a welcome reminder, especially for folks like me who work in industries where the term "retreat" is often used as a euphemism for an all-day or multi-day business and strategy meeting! (And the Black Women Leading LIVE attendees definitely took advantage of the opportunity to build community and have some fun–more on that later in this post and next week's.)
Reflecting on Laura's prompt, I set my intention–be open to receiving what's for me–and gave myself the "permission slip" to be open to meeting new people and adding to my community. Even though I often lead trainings and feel completely in my element talking to and facilitating discussion among a room full of people in my day job and my business, I can actually be more of an introvert in social and networking settings. After Laura's kick-off, I enjoyed two more thought-provoking and powerful sessions over the course of the morning.
"Managing Grief from Career Transitions"
Black Woman Leading Coach Chinasa Elue, Ph.D Associate Professor of Ed Leadership and Higher Ed led this discussion, and it was truly eye-opening for me! We generally only talk about grief in the context of losing a loved one, but grief can apply in other situations too. In this session we learned about grief in the context of job transitions and a framework for how to walk through it. Dr. Elue shared a framework called the ACT Framework that we can use when we realize that it's time to leave a space that we have outgrown: Acknowledge that pain exists, Care (Self & Community) & Truth (honoring our lived experience).
This session really had me reflecting as I've been with my current employer for 16 years. I've been fortunate to grow and develop during that time, both personally and in terms of my career advancement. I've always enjoyed and felt a strong connection to my work and I've gained so many valuable colleagues and friends along the way–so this is something that I will have to truly think about when it's time for me to make my next move and transition out of the company. Every job transition has its challenges, especially when you've been as invested in the work for such a long time as I have, and hearing Dr. Elue apply the lens of grief to those types of transitions and provide a way of processing and moving through that grief gave me tools that I know will be helpful in my future. I shared one of her slides that especially resonated with me in a LinkedIn recap in case it's helpful for someone else.
"Worthiness Within Your Wardrobe"
Morgan Wider led the next workshop that was subtitled "How to Show Up with Power and Purpose." I wasn't quite sure what to expect when I first read the session title in the conference agenda. How would our wardrobe tie in with our power and purpose? I was intrigued to learn more, though, especially given that the pandemic and our remote work/stay-at-home time during the height of COVID-19 has up-ended some of the norms and trends around how we dress at work and even at home. Plus, I've been fortunate to work in an industry for many years that hasn't typically enforced strict dress codes, so I'll admit it's been a long time since I gave my wardrobe that much thought!
It turned out this session was about so much more than wardrobe and appearance! Morgan is a sought-after speaker and style consultant but my biggest takeaway from her talk was that while clothes are an outward expression of what we feel about ourselves, truly showing up with power and purpose in our lives requires first cultivating confidence and self-love within. Morgan coached us all to accept our imperfections–whatever those may be–practice forgiveness for our flaw or mistakes, and think about self-love as an everyday job.
We also each went through a powerful exercise where Morgan asked us to turn our phone cameras to face ourselves and to press record as we recited this……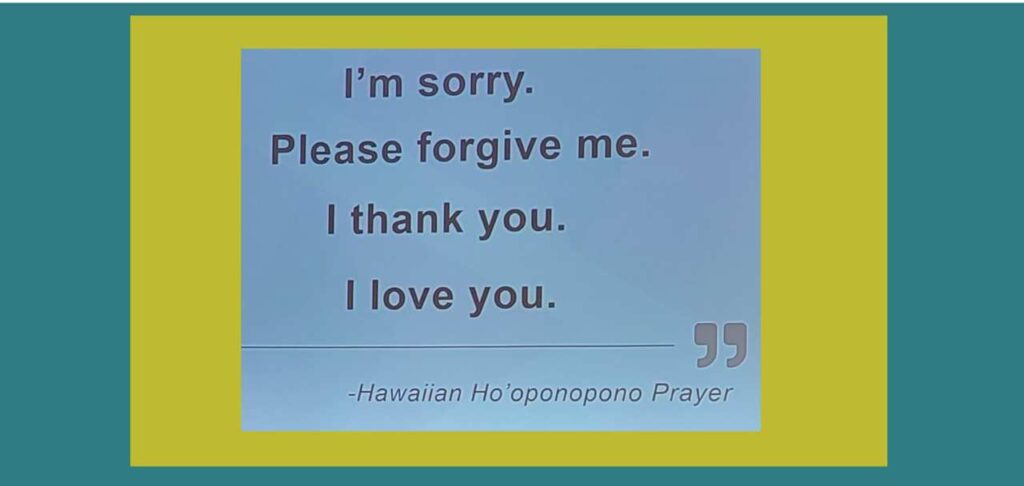 Needless to say, this wasn't what I was expecting when I sat down for a conference session that I thought might be a light-hearted discussion about wardrobe, but the practice of recording our prayers of self-love and forgiveness really landed with me in a profound way and I'm still thinking about those words now that I'm back home in my day to day life. Looking back at my notes from Morgan's session, I wrote down what I was feeling in that moment after our exercise and I know these words will be sitting with me for a long time too: I am Worthy; I Show up; I Show up "on purpose"; I am worthy of being seen. And yes, the session did inspire me to start thinking about fashion too, and how I can incorporate some items into my wardrobe that better express my inner self and my unique personal style! (I'll let you know how that goes in the coming months and maybe even share a photo or two in a future blog if I find a new outfit that feels like a visual representation of "showing up on purpose!")
Getting back to the "retreat" aspect of our retreat, we had lunch on the beach, which was fantastic! If you've had to attend conferences over the years for your work like I have, you know that the typical conference has participants indoors for the entire day, and often in what can feel like a never-ending series of windowless meeting rooms! Our beach lunch was a welcome opportunity to get outside and get some sun and take in the view of the water. I'll close out this week's post with a few pics I captured of the Gulf of Mexico. Wherever you are in the world–beachside or not–I hope it inspires you to take a few minutes for yourself and get outside for some fresh air this week! I'll be making space to do the same as I work on next week's post continuing my reflections from Black Women Leading LIVE.